Usability testing is testing with users. It allows evaluators and designers to observe actual interactions between a product and representative users, paying particular attention to where real people encounter difficulty. Testing supplies behavioral insights by observing how people use a product or service, and provides project feedback by evaluating the performance of the product being tested.
Usability testing can be conducted on websites, software, mobile devices, forms, or even physical environments. It can be done at different stages of the design process. We have tested everything from paper-based prototypes through to high fidelity, complete interfaces.
Benefits
Although other techniques are valuable, it is often hard to predict what real users will do. A test with users will identify aspects of a design that cause real users difficulty, confusion, or misunderstanding; and it will validate aspects that have been satisfactorily resolved. With hard evidence from testing, project decisions needn't be affected by subjective opinion.
Early testing with simple prototypes allows a design team to make improvements before it becomes too costly to make changes. By focusing the team on key issues, testing can make the design process efficient and save time.
At userexperience.ca, we have developed an optimized approach to conduct moderated and non-moderated usability testing specific to the public sector to get you quick effective results. Learn more about our approach below:
Moderated / non-moderated
Usability testing optimized approach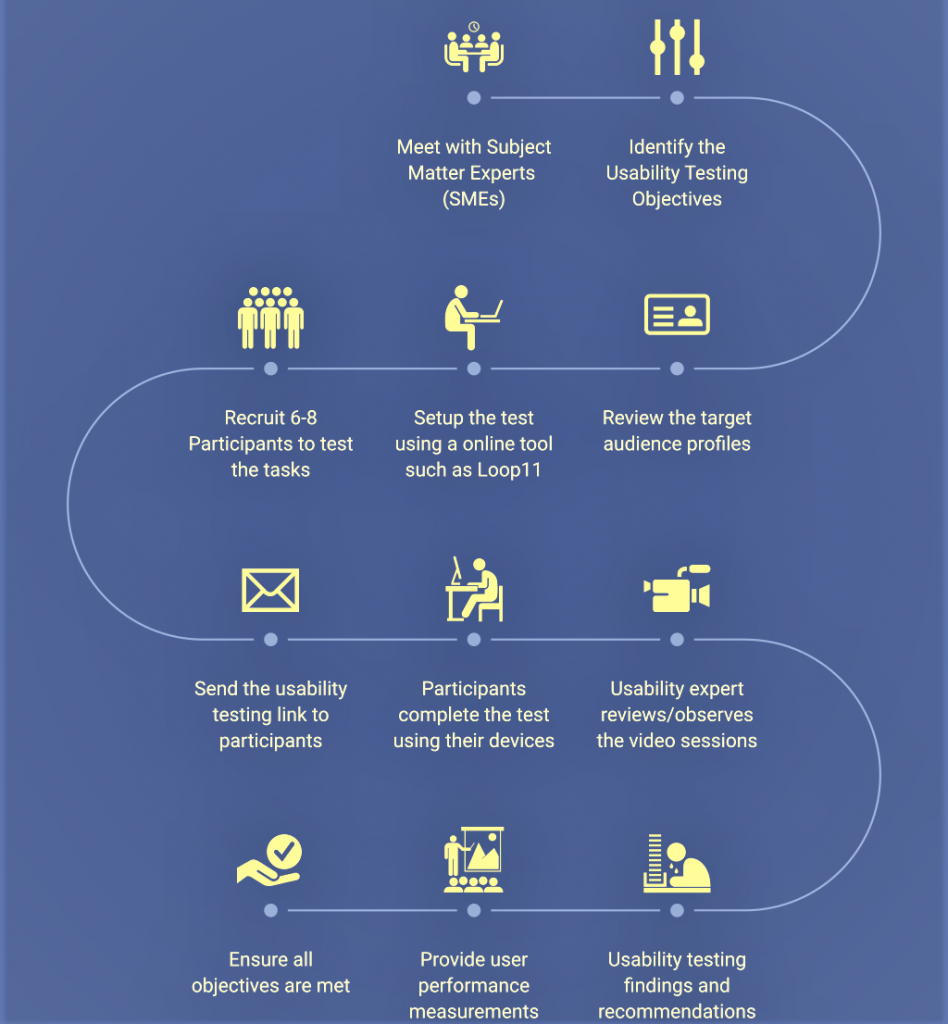 1
userexperience.ca to meet with the client to discuss the project objectives
2
Identify the testing objectives and set targets to reach such as increasing the findability rate and task completion for > 75%
3
Identify who are the target audience for each task and review their characteristics
4
Create the tasks to be tested by participants in the Loop11 online tool including user scenarios and survey question (pre and post test questions)
5
Recruit participants to do the test either through the different methods available on loop11 or recruit through the website being tested by placing a JavaScript notice/popup to ask for volunteers to participate.
6
After the test is setup and participants are recruited, a link will be sent to the participants to complete the test on their own computers/devices with instructions of what they are expected to do.
* (Incase of moderated testing, please see below)
7
Participants can complete the test on their own time from their own office. The tool automatically records their sessions and save it.
8
Our UX experts will observe the videos, analyse the participants behavior and identify key usability issues
9
UX expert will provide the recommendations to fix the identified usability issues
10
A summary of the findings and the participants performance while completing the tasks is presented to the client with the solution to fix it
11
We provide a final report that documents the entire process, validates if the objectives of each task are met, and proposes the next steps.
In case of the moderated testing, update step 6 above to include not only a link to the test, but also a WebEx meeting invitation to communicate with the participants and see their screens while they are completing the test)